Richard Hambleton

American-Canadian,

1952-2017
Yield Gallery specialize in only dealing with Richard Hambleton original artworks.
We have a fantastic range of captivating Richard Hambleton originals in stock ranging from Shadow Head portraits to Landscapes. We source our Richard Hambleton artwork directly from the largest Richard Hambleton inventory in the world , people that knew Richard personally and like us, care passionately about his work and legacy.
"I painted the town black."

– RICHARD HAMBLETON

---
Richard Hambleton was an American-Canadian graffiti artist best known for his recurring motif of a black-silhouetted figure known as the Shadowman. Along with his contemporaries Keith Haring and Jean-Michel Basquiat, Hambleton painted directly on the streets of New York and achieved success during the art boom of the 1980s. "I painted the town black," he once said. "They could represent watchmen or danger or the shadows of a human body after a nuclear holocaust or even my own shadow."Born on June 23, 1952 in Vancouver, Canada, he studied at the Vancouver School of Art before beginning his Image Mass Murder series in 1976. These works mimicked the look of chalk outlines used by police during crime scene investigations. Settling in New York in 1979, Hambleton transitioned from street art to producing paintings in his studio. He went on to participate in both the 1984 and 1988 Venice Biennale.Before Banksy there was a Shadowman 'Richard Hambleton', best known for his black –silhoutted figures known as the ShadowMen.Richard Hambleton was part of a street art movement in the 1980s that included Jean-Michel Basquiat and Keith Haring.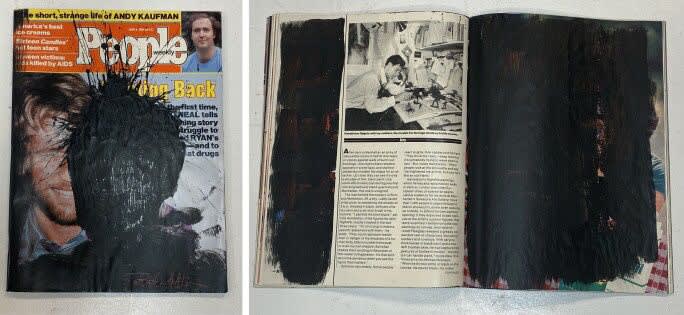 the urban canvas to evoke public reaction. Richard Hambleton was reported to be an elusive genius. The original pop Expressionist, Hambleton's unforgettable images have permeated our collective consciousness for over three decades.
Jean-Michel Basquiat passed away in August 1988, since his death his artworks monetary value increased massively with his most expensive piece selling at $110.5 million in 2017! Jean-Michel Basquiat became the most expensive American artist ever sold at auction when an azure-and-black untitled skull painting from 1982 was bought by the Japanese billionaire Yusaku Maezawa for $110.5 million after a ten-minute bidding war at Sotheby's Postwar and Contemporary Evening Sale. The one lot out of a total of 49 accounted for over a third of the sale's $319.2 million haul.
Keith Haring passed away in February 1990, since his death his work followed in the same direction as his friend Basquiat.
Here are some of Keith Haring's auction results over recent years…
'untitled 1988' was sold at Sotheby's New York in November 2014 for $3,077,000.

Self-Portrait 'For Tony', 1985, sold at Sotheby's New York in 2016 for $4,512,500.
The 1982 Untitled holds the record for being the most expensive Keith Haring artwork sold in auction, with $6,537,500 courtesy of Sotheby's New York in 2017.
Richard Hambleton was the only member of this street art movement that was still alive which is why his artwork wasn't appreciated by investors and only enjoyed by collectors. Since Richard Hambleton's death in 2017 his artwork is being heavily sought after by investors. Richard Hambleton's artwork has increased in value at a significantly faster rate than Basquiat's or Haring's. Art collectors and investors around the world believe Hambleton's works will surpass the likes of Basquiat & Haring.
Richard Hambleton has had many exhibitions, both solo and group. His work can be found in the permanent collections of the Check Point Charlie Museum, The Zellermeyer in Berlin, The Andy Warhol Museum, Austin Museum of Art, Milwaukee Art Museum, New Museum of Contemporary Art, Brooklyn Museum, The Queens Museum and Harvard University. Hambleton has twice been chosen for the Venice Biennale.
Richard Hambleton has been featured in Art Forum, Art in America, The International Herald Tribune, The New York Times, Architectural Digest, LIFE magazine.
For more information on Richard Hambleton or if you would like to book an appointment at our London studio please contact one of our Yield Gallery advisors.
Richard Hambleton sadly died on October 29, 2017 in New York, NY.
Today, Hambleton's works are held in the collections of the Brooklyn Museum,
the Andy Warhol Museum in Pittsburgh, and The Museum of Modern Art in New York, among others.
Send me more information on

Richard Hambleton